Auto scrape LinkedIn jobs with windows application bot

Scrapes jobs from advanced search on LinkedIn.
This windows application bot will help you to Auto scrape and save jobs from LinkedIn .
Best software to scrape LinkedIn jobs.
Highly recommended!
This bot was made to help you with your LinkedIn activity.
Forget about annoying manual jobs scraping!

Automate it!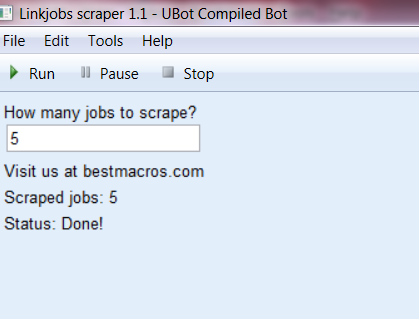 Main Features of the bot:
Scrapes LinkedIn jobs from advanced search results page.

Scrapes: Title, Company, City, Experience, Industry, LinkedIn job ID, Job direct Link, Job description, Desired Skills and Experience, Job poster LinkedIn ID, Job poster LinkedIn profile link, Job poster name.

Use advanced search to select jobs you want to scrape.

Set how many jobs to scrape.


Status show the process of scraping and saving.

Scraped messages are saved in csv file.

This will help you on your daily LinkedIn activity.
If you are even thinking about doing business on LinkedIn, you'll want this bot.
Auto scrape and save LinkedIn jobs with this super powerful Linkjobs scraper bot.